Betty Soskin of the Rosie the Riveter
With bated breath, our group planned this visit last fall with Ranger Betty. She's sharper than most decades younger and looks it! This National Park is a must see/do while she's still there. In 2015 she lit the National Christmas tree in DC. This overlooked National Park has rich history of WWII Home Front, Henry Kaiser, the Black and Japanese history of Richmond, CA.

SS Red Oak Victory Ship is closed temporarily because of damage to gangway but we drove to shipyard 3 to check it out anyway. Victory ships are larger/faster than liberty ships. I was a volunteer in restoration of the last liberty ship, SS Jeremiah O'Brien. It sailed to Normandy for D-Day 2004 fest while the bigger, faster SS Red Oak Victory Ship never made it out of Richmond.
"I'm proud being a part of its history and I see the Jeremiah from my patio."
Rosie the Riveter / World War II Home Front National Historical Park Website
U.S. National Park Service Ranger Betty Reid Soskin
Betty Reid Soskin (born Betty Charbonnet; September 22, 1921) is a Park Ranger with the National Park Service, assigned to the Rosie the Riveter/World War II Home Front National Historical Park in Richmond, California. She is the oldest National Park Ranger in the United States.
Early life and career
Betty Soskin was born in 1921, in
Detroit
to Dorson Louis Charbonnet and Lottie Breaux Allen, both natives of
Louisiana
. Her father came from a
Creole
background, and her mother from a
Cajun
background. Her great-grandmother had been born into slavery in 1846. She spent her early childhood living in
New Orleans
, until a hurricane and flood destroyed her family's home and business in 1927, when her family then relocated to
Oakland, California
.
Reid's Records inBerkeley, California, 2014
In June 1945, she and her then husband, Mel Reid, founded Reid's Records in Berkeley, California, a small black-owned business specializing in Gospel music. They moved to Walnut Creek, California in the 1950s, where their children attended better public schools, but where the family encountered considerable racism, and she and her husband were subject to death threats after they built a home in an all-white suburb.
She was divorced from Mel Reid in 1972, and subsequently married William Soskin, a psychology professor at the
University of California, Berkeley
. In 1978, after her former husband Mel Reid's health and finances had declined, she took over management of the music store, which led to her becoming active in area civic matters and a prominent
community activist
. Reid's Records was still in business as of 2014.
The Rosie Memorial in Rosie the Riveter/World War II Home Front National Historical Park,Richmond, California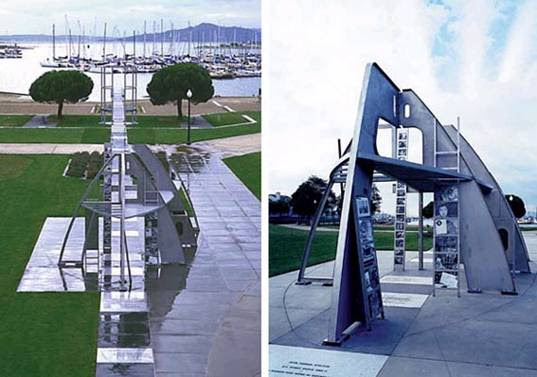 Norman Rockwell's illustration for the Saturday Evening Post's Memorial Day cover, May 29, 1943, featuring Rosie the Riveter.
She later served as a field representative for California State Assemblywomen Dion Aroner and Loni Hancock, and in those positions became actively involved in the early planning stages and development of a park to memorialize the role of women on the Home Front during World War II. Those efforts came to fruition when Rosie the Riveter/World War II Home Front National Historical Park was established in 2000, to provide a site where future generations could remember the contributions women made to the War effort.
Reflecting on her own role in planning for the Park's creation, and on how she brought her personal recollections of the conditions for African American women working in that still segregated to bear on the planning efforts, she has said that, often, she "was the only person in the room who had any reason to remember that… what gets remembered is a function of who's in the room doing the remembering."/>
National Park ServiceEmblem
Soskin is currently employed at the Park as a Park Ranger with the National Park Service, and conducts park tours and serves as an interpreter, explaining the Park's purpose, history, various sites, and museum collections to park visitors. She has been celebrated as: "a tireless voice for making sure the African-American wartime experience – both the positive steps towardintegration and the presence of discrimination – has a prominent place in the Park's history".
Park Ranger Soskin has said, commenting on her life at age 93: "Wish I'd had [the] confidence when the young Betty needed it to navigate through the hazards of everyday life on the planet. But maybe I'm better able to benefit from having it now – when I have the maturity to value it and the audacity to wield it for those things held dear."
Honors
SS Red Oak Victory Ship
The Victory Ship is a wonder from an age of Total War.